Recently, I moved apartment: what a pain... You forget when you haven't done it in a while just how much of a nightmare it can be.

Having moved home on about 10 occasions in my life so far, this time I decided that I was not going to do it all myself – no renting vans, lugging boxes or beds up and down stairs, breaking my back for a dining table or the like that I would just as happily throw down the stairs, never mind carry. Nope, those days are over I decided.

So, we picked some random movers out of the phone book, with the impressive name of Move Me! A man with a van plus his mate, basically: no fancy headed paper, business cards, written quotes (hah). Nope, none of that craic, just a pair of lads, their fairly well-used van, and a hand-painted logo on the side. Classy.
I never overly stress about such things anyway because, after all, I wasn't exactly asking them to shift the Crown Jewels for me, so the risks weren't too high; it's not like the stuff they were moving was Louis XIV quality or anything like that, bar the odd nice thing which is the other-half's anyway. They could chuck most of my stuff from the third-floor window into the back of the van to save them the bother of having to lug it down the stairs and, you know, it wouldn't bother me in the slightest.
The sum total of my 'valuables' sat nicely into one box, which I myself transported from A to B.
But the lads turned out to be great.
In fact, without exaggeration, it was one of the best service experiences I have ever had – no bells or whistles perhaps – just good old-fashioned customer care. It led me thinking about the 5 most important factors for a great service: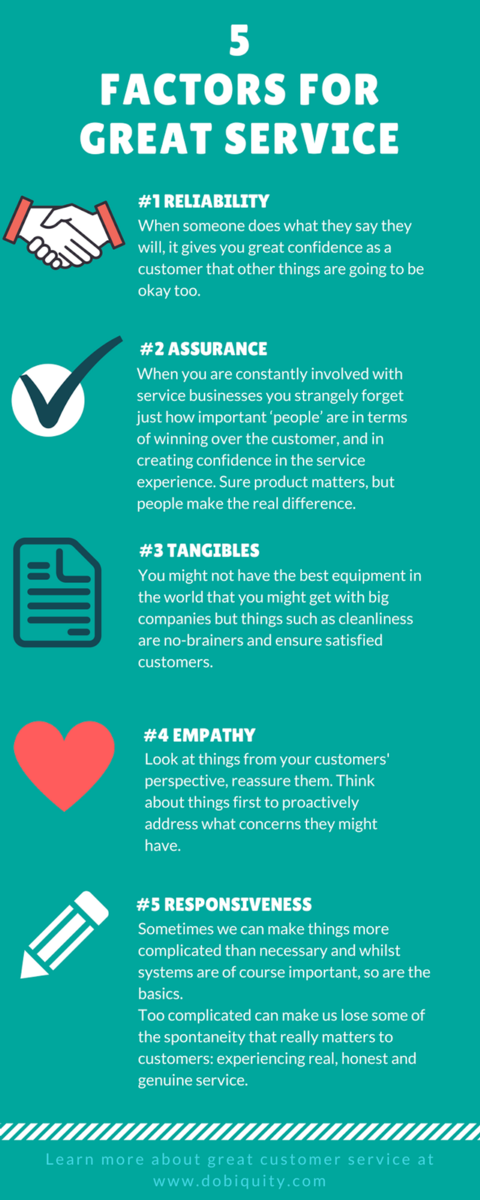 So, whilst the lessons from my moving experience might be basic, and situational, there are plenty of applications for those lessons in any business context, namely that we shouldn't lose sight of customer expectations – and particularly the need to feel valued – and that comes not necessarily via your product, procedures or systems (important as they are) alone, but from dealing with your people.

© Dobiquity Limited